Oh my gosh! 
I've been nominated as the Versatile Blogger by World of Nabeeda. Thanks a bunch, Nabeeda! You made my day. Things like these are giving me anew zing every moment. 😊

What is this award actually?

The versatile blogger award is given by bloggers to bloggers to recognize the talent around the globe. It's intended to bring those amazing blogs into the limelight. It recognizes the quality content, passion, and of course the pictures that make the blog look awesomely unique. 
7 facts about me
1. I love to look at myself in the mirror (That's why it takes so long for me to get ready) My mom keeps saying that I should hang a mirror around my neck to see myself all day 😆
2. People think I'm a shy person but it's not actually. People who are close to me know how much I babble. 
3. I don't want to skip wishing anyone on their birthdays, even those who don't wish me accidentally on purpose. I consider that's the best thing about me. 
4. I love to be clicked. I have almost some thousands of photos. My brother almost blacks out clicking my photos. Still, I can't get enough of it. LOL. 😆
5. I love to gossip (but I don't spread rumors) Why not! It's not harmful to anyone.
6. I daydream a lot. Whenever I'm upset I imagine all the things that should've happened. I love that too. 
7. I wish to have a panda as my pet. Little crazy but yes, I do. I adore how much attention-seekers they are.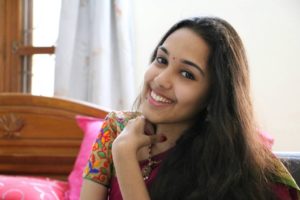 when you love wearing a saree (Indian), it's clearly visible

Now it's my turn to nominate some other amazingly passionate bloggers. Here are the blogs I nominated. Check how beautiful they are. You all truly deserve this!

1. Madrasi Bride
2. Nico Living
3. Two Little Home Schoolers
4. Dapper House Designs
5. Simply saidy
6. The Stefanies Zewczyk
7. The Yorkshire Pudding
8. Unibooth
9. All in moderation
10. Virtual Orchards

Rules: 
1. Thank the blogger who nominated you and share their link.
2. Nominate up to 10 bloggers for the award and provide links to their blogs. Also, inform them about the nomination.
3. Reveal 7 facts about yourself that your readers may not know.
Thanks again for nominating me, Nabeeda. That's very sweet of you. 💓