Until some time back I did not really feel the need to have a night time skin care routine because I'd always been someone who never wears makeup on a regular basis nor has any intense work schedules that take a toll on their skin (Though it's always good to care for your skin). But lately, I've started experiencing the need for one due to my work and timings, so I've been on the look for the past some time for good and affordable products that are worth being a part of my night time skincare routine. And guess what? I've found it, luckily without much of a struggle.
* Dot & Key skin essentials night serum * is something I found perfectly befitting for my skin needs. Due to frequent photo shoots, makeup, travel and stress, my skin has started feeling a little dry recently. I wanted to start acting on it before it's late. So, I started using Dot & Key skin essentials night serum. It costs 575 INR.
I can overlook cosmetics but I take extra care when it comes to skincare products. So I first saw what Dot & Key promises to offer to their customer base.
Cruelty-free
Dermatologically tested
No nasty chemicals
With natural botanicals
No toxic chemicals like parabens, sulfates, and phthalates.
And their Key promise: superior skincare that's absolutely safe, delightfully gentle and unquestionably effective.
Great that they made all the right priorities but would the product actually work??
I've been using it for three days for now and I could definitely see a bit of a difference already in the way my skin feels (My skin type is normal). Not exaggerating at all. Every night I take a few drops of this serum, apply it all over my face, tap and massage it until it's completely absorbed into the skin. And then I apply moisturizer and head to bed. When I wake up the next morning, my skin feels supple, plump and hydrated enough to hustle through the rest of the day. It felt so soft that I couldn't help stroke my face again and again. Again not exaggerating! *Grin*
It's super light on the skin while applying too. It doesn't feel sticky, thick, or sting. I felt it very gentle on the skin which is absolutely a good thing.
If you ask whether I'd recommend this? YES, I'd totally commend it. Especially for dry skins. My mum has been using it too and she thinks it worked well for her also. It's definitely worth the price and your time.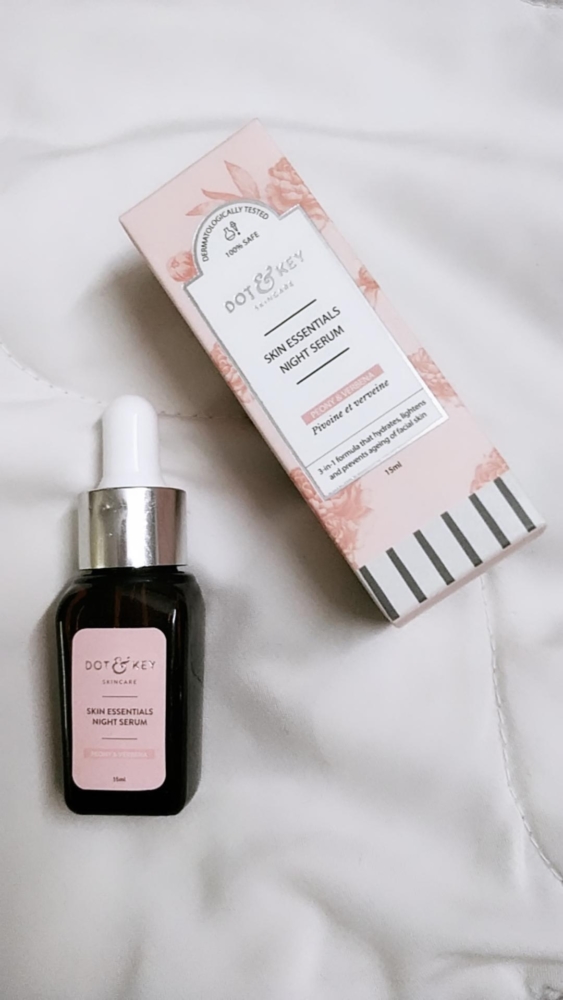 How do you use it?
Take out two to three drops of Dot & Key skin essentials night serum on your face and run your hands all over your face evenly.
Tap the serum into your skin for better results.
Do this every night before moisturizer and after cleansing your face.
And then finally, finish it off with a good moisturizer that suits your skin. Totally optional but I prefer doing so. It's as simple as that.
Rating: 4 out of 5
4 because I'm not sure how much it'll suit an oily skin. But it's definitely worth trying. I hope you would definitely give it a whirl and I'm the most certain that it would work for you just as it did for me!
Lots of LOVE,
Nikki.
---
*Subscribe*