The pollution and dirt in the air these days is taking a toll on our skin and it's high time we should start a proper skincare routine before it's late. Talking about the skin care, Korean skincare routine is considered as the best tho laborious. But with the busy lives we're living, it's quite a burden to follow even a simple skin care groove let alone this laborious Korean skincare routine. But worry not, I have got you sorted. I have tried this K-skincare regimen for 10 days and here's my take on this.
What you gonna get from this article?
You're going to learn the actual Korean skincare routine, the shorter version for the busy bees, the result I have got, and the products I've used in this article.
I have tried this Skincare regime for 10 days straight and I'm feeling quite good about this. This Korean skincare routine is a 10 step procedure and what I suggest you is it's better to focus on what your skin needs and applying those steps alone can get you the best results rather than tiring yourself every day to cope up with every step.
Actual Korean skincare routine
Here comes the real K-skincare regimen. These 10 steps have to be done every day and every night (except for sunscreen, it needn't be applied at nighttime). Quite strenuous, huh? If you want to do every step it's good but if you can't, just take what your skin needs.
Step 1: Makeup remover
We don't have makeup in the morning anyway before the morning skincare regimen but at nights it's absolutely necessary to remove all the makeup before you go to the next steps.
Buy here: Neutrogena oil-free eye makeup remover
Step 2: Oil cleanser
Makeup often makes our skin dry and oil cleansers are the solution for it. It cleanses your skin thoroughly, makes the skin moisture. Investing in a good oil cleanser is the best decision if you have dry skin.
Buy here: Banila co clean it classic cleanser
Step 3: Water-based cleanser
Most Koreans follow double cleansing method. They use both oil cleanser and water cleanser regularly. Water-based ones are the foam or gel kinda cleansers. These wash away the impurities that oil cleanser didn't pick up. After an oil-based cleanser, time to go for a water-based cleanser.
Buy here: Benton honest cleansing foam
Step 4: Exfoliator
Every penny invested in a good scrub is totally worth it. Honestly, of all the steps I have found exfoliation very effective and a must. Exfoliator cleans the pores and smoothly removes the dead skin and blackheads off of your skin.
Buy here: Skin food black sugar scrub
Step 5: Toner
After the double cleansing, it's time for prepping your skin with a good toner. A toner will make your skin moisturized, smooth and balances the pH levels.
Buy here: Klavuu pearl treatment toner
Step 6: Essence
An essence is a sort of hybrid of toner and serum. It's meant to repair the skin and keep it hydrating. It has the skin tone-enhancing ingredients. Koreans consider this step as the heart of this Korean skincare routine.
Buy here: Missha essence treatment
Step 7: Ampoule/Serum
Ampoule and serums are the skin treatments. If you want to get rid of dark circles, acne or anything, this is what you should try. Gently tap these into your skin and feel the awesomeness! I tried a face serum from the body shop and gonna continue it for sure.
Buy here: Body shop vitamin c glow face serum
Step 8: Face Sheet Masks
These sheet masks leave your skin refreshed and moisturized. You don't have to put on the masks both day and night, just once will do the trick. Put them on for 20-30 minutes, remove the sheet and gently tap the skin making it absorb the liquid. Below are the face sheet masks I have used and I just love them. These made my skin supple and moisturized, plus these masks smell sooooo good.
Buy here: Blueberry face sheet masks
Step 9: Eye cream + Moisturizer
Use a Korean moisturizer that's best in the market or you think that suits your skin well. Most of us use moisturizer but a good eye cream is also essential indeed. Many of us miss that. The skin around our eyes is sensitive than the rest of our face so we need to take special care of that.
Buy here: Klavuu Korean eye cream
Step 10: Sunscreen lotion
This is an essential step in your daytime skincare routine. Never leave your house without applying a sunscreen lotion with good SPF (50+). It protects our skin from dirt, pollution and too much exposure to the sun rays.
Buy here: Missha sun milk SPF 50+
Shorter Korean skincare routine for busy bees
If you're someone who doesn't have enough time for such an arduous skincare regimen then this is for you. These are the absolutely necessary steps for a fresh and glowing skin.
Step 1: Makeup remover + Cleanser
Step 2: Exfoliator
Step 3: Toner
Step 4: Serum
Step 5: Sheet Masks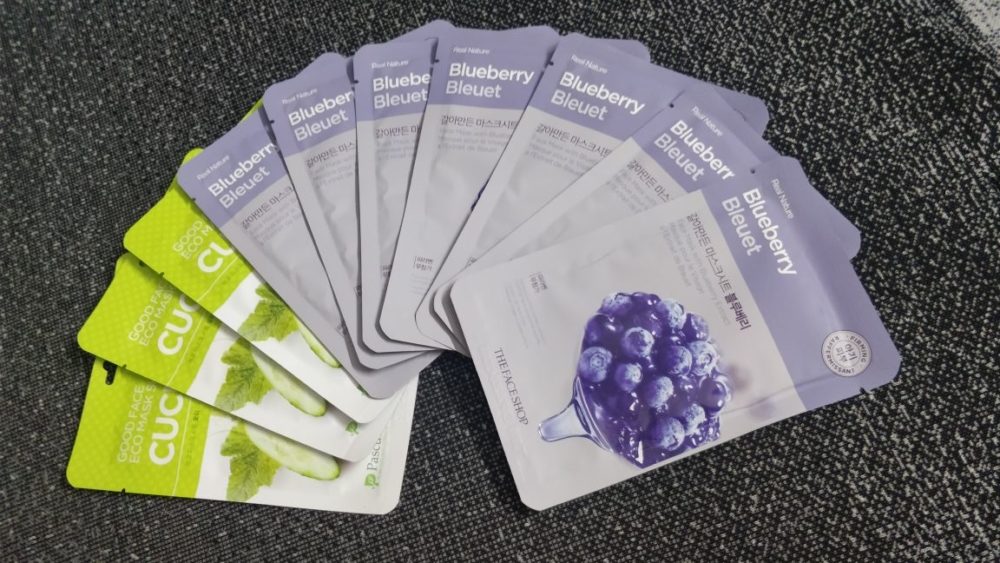 This is the perfectly shorter version of the Korean skincare routine for a busy bee like you.
Economical version of Korean skincare routine
What if I tell you that regardless of the products you can get that radiant skin you've always wished for. Yes, you heard that right! What matters most is the CARE, not the products. If you can afford those products then fine, if not, go the natural way. This is also the best and economic Korean skincare for combination skin. So, here are the economical options.
Also, check "Fairness tips for a glowing skin"
Makeup remover:
Remove the makeup with a dab of moisturizer on a cotton ball. This is the best alternative for an expensive makeup remover. Or you can also use oil instead. That will also do.
Cleansing:
For cleansing, you can use simply water as well. Some Koreans actually prefer that too. Try this if you wanna get most out of this Korean skincare routine with a minimal budget.
Exfoliation:
The natural way of exfoliation is also very efficacious. For that, You just need to cut a slice of lemon and dip it into the sugar and rub it onto your face for a couple of minutes. That's it!
Toner:
An alternative to a costly toner is rose water. It's natural, effectual and budget friendly.
Sheet Masks:
The sheet masks I have mentioned above are so good but in case you prefer a cheaper one go check out 7 best homemade face masks for a radiant skin.
My take on Korean skincare routine
With just a few steps I have followed I have seen some considerable results on my skin. Basically, I'm blessed with a good skin by birth but still, after the 10 days of following the Korean skincare routine, I have found my skin…
More moisturized
Brighter
Clearer
Softer
Ever fresh
Makes my skin more adaptable to the makeup
Hope you had found what you're looking for and liked my shorter and economical versions of the Korean skincare routine. Comment down below which one are you gonna follow, the actual one or the shorter one or the budget friendly version.
*Have a happy bright glowing skin*
LOVE,
NIKKI.