Hello, YOU! Hope everything is wonderful on your end. Today, I'm here to share my views on two new skincare products I've tried newly from Biobloom. Before that, I'd like to tell you… just as I named my fashion series as 'Vibe Today', I plan on naming the Skincare series as 'Rosy Skin Essentials'. So that it would be easy for you to spot them among the hundreds of other posts. Okay… so… coming to the point, I recently received two new Biobloom organic products from someone and I would like to review them here for you.
Rosy Skin Essentials #1: Biobloom Organic Products
Biobloom is an Indian brand. This is the first time I'm trying products from this brand. I've got two products here. The first one is Biobloom Natural Cleansing Milk and the second one, Biobloom Skin Care Face Oil.
Recommend: My new ideal weekend skincare routine [2019]
Let's see, then!
1. BioBloom Natural Cleansing Milk
Before I talk anything about this product, I'll first tell you my verdict on this. I liked this product. It is soothing and aromatic. It specifies to contain Apricot, Lavender and Jojoba oil. It's lovely lavender aroma tingles on the skin for a few minutes even after you wash it off. It has a moderately thick consistency. It's free from Parabens, Formaldehyde, Sulphates, and Petrochemicals. It also comes in a travel-friendly packaging. It specifies to be apt for all skin types and I agree.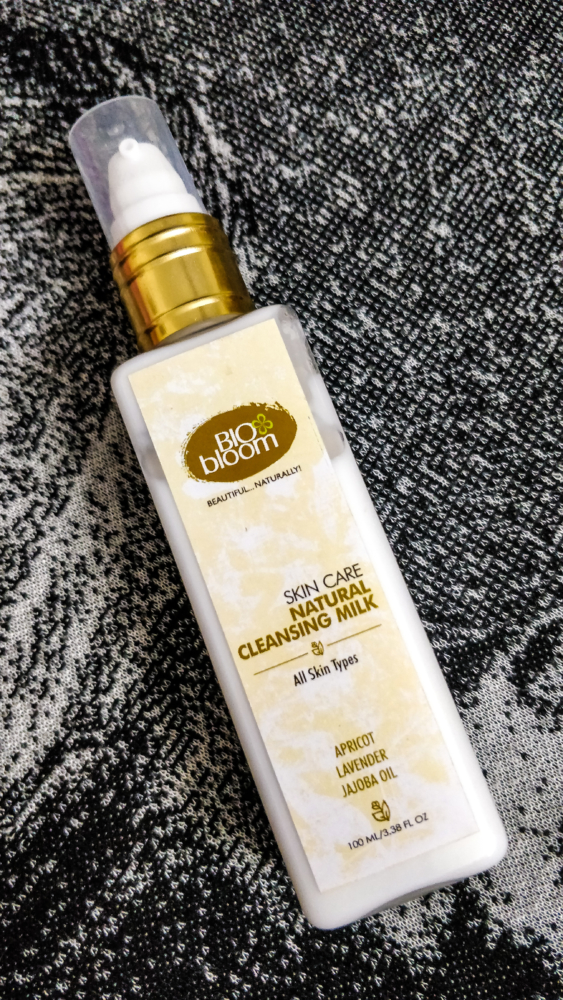 It's very gentle on the skin and hydrating as well. It doesn't lather much which is a good thing, as too much froth makes skin dry. It felt so soft while massaging it, just like milk. It cleanses your skin thoroughly. Though I felt it might not clear all the makeup traces, scrubbing after it is needed for a squeaky clean skin. It would be good to use such product every day with or without makeup, as it will be moisturizing on your skin (unlike the regular soaps we use) and also as it is free from harsh chemicals. The overall feel to it is very good and I'd be happy to recommend it to anyone.
How to use:
Damp your skin first and then take a couple of pumps of the product. Gently apply it on your skin, massaging it thoroughly. And then rinse it off with water, either lukewarm or cold. Pat dry with a clean towel.
The only issue with this product is, it's a little pricey, just as expected from an organic product. The MRP quotes as 440 Rs. for a 100 ml package. It bothers many people to spend that much on just a cleanser. Other than that, I don't really see why one might not like it.
Rating: 4.5/5
2. BioBloom Skincare Face Oil
Again, I liked this product too. Usually, some face oils feel sticky after application leaving us with a no-good feeling. Not this one. It doesn't feel sticky or too heavy on the skin, and also has a nice scent to it. Just three drops of it will be enough. Though I haven't used it that long to see if it actually boosts radiance, I do feel it makes skin soft and moisturized. Mostly, I used it at night times leaving the oil overnight on my skin. It does feel very good in the morning after I wash my face.
But it's crazy expensive. It quotes 999/- on a 10 ml product but on some websites, like Nykaa, it's priced at almost 1500 Rs for 15 ml.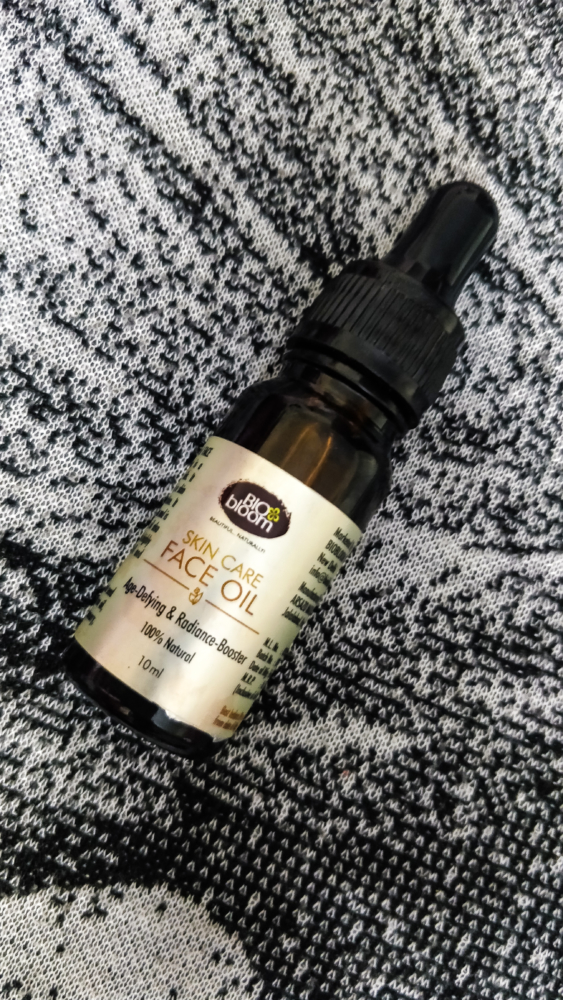 Is it worth the price?
Depends on individual needs. For me, it seems a bit superfluous.
Product description:
This lightweight and 100% natural face oil with a natural fragrance is a miraculous blend of essential oils. It enhances skin radiance and aids in skin lightening, tightening & rejuvenation. It works like a charm for all skin types and is suitable for all age groups. This oil also diminishes fine lines and wrinkles and is highly recommended for aging, dull and damaged skin.
Ingredients:
Apricot Kernel oil, carrot seed oil, rosehip oil, geranium oil, lemon oil, frankincense oil, myrrh, rosemary, Vitamin E, evening primrose. Free of Parabens, mineral oil, petrolatum, LLP, and petrochemical.
How to use:
After a cleanser or a normal face wash, pat dry your face. Take a few drops of it and apply it all over your face. Whatever time of the day you use it, I recommend doing it only after the face wash, as it removes any impurities and sweat before. Then, the oil can work well on your skin. If you are in a hurry, you can leave it in for a minimum of 30 minutes and wash it off. Otherwise, you can just leave it. For best results, apply it at night and leave it overnight.
Rating: 4.5/5
Finally, I liked both the products but both are expensive. If you are someone that's on the lookout for organic skincare products, this is a good start. These Biobloom organic products are most certainly worth trying if you can be a little flexible with the price. And also, if you are sensitive skinned, this one serves you well.
Voila. That's all for today. I hope you enjoyed the first one in the 'Rosy Skin Essentials' series, leave a comment and let me know if you would like me to review any other particular product of your interest. I'd love to do it for you.
I'll see you next time!
Lots of LOVE,
Nikki.
---
*Subscribe to Nikki's talk*