Today's avatar is Ma Skandamata, the fifth form of Ma Durga. Skanda is the name of Lord Karthikeya, son of Lord Shiva and Ma Parvati. And Mata means mother. Thus Skandamata means mother of Karthikeya Swamy. In this form, she holds child Karthikey Swamy in one hand.
On Navratri day 5, I wore a Kanjivaram saree. If you want to go with a saree for a festive look, Kanjivaram saree is the one for you. It's my first time wearing it, although it didn't feel that comfortable (I mean, it's lengthy and bit difficult to manage unless you are used to it), it looked great. It's elegant, royal and strikingly beautiful. And the color is an added asset. Red is a festive color. If you ask me, every girl must have a red Kanjivaram saree.
So, this is how I dressed up for Navratri day 5 in a red Kanjivaram saree.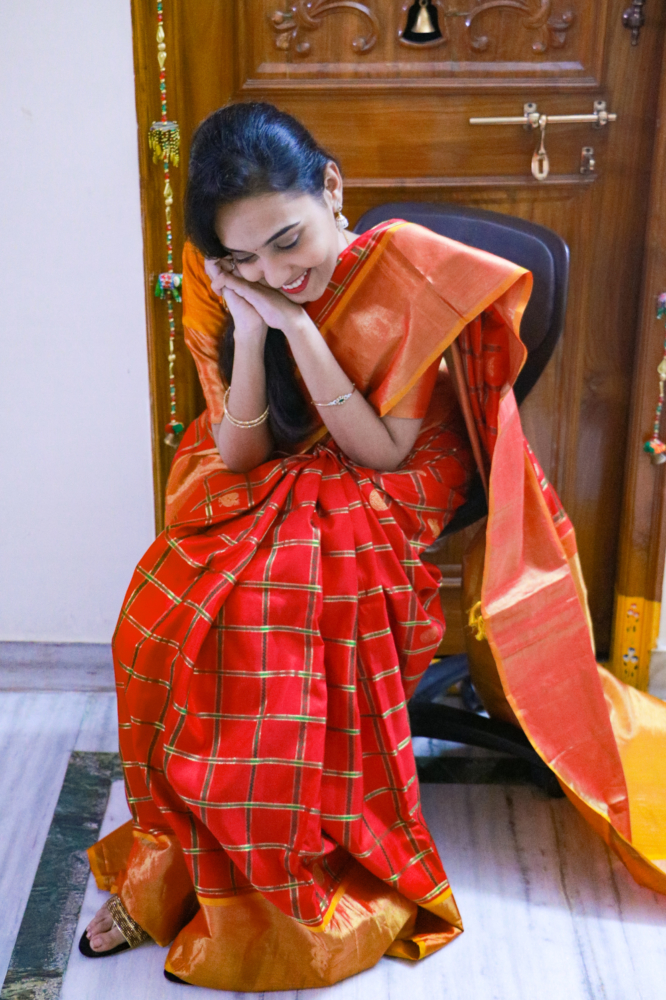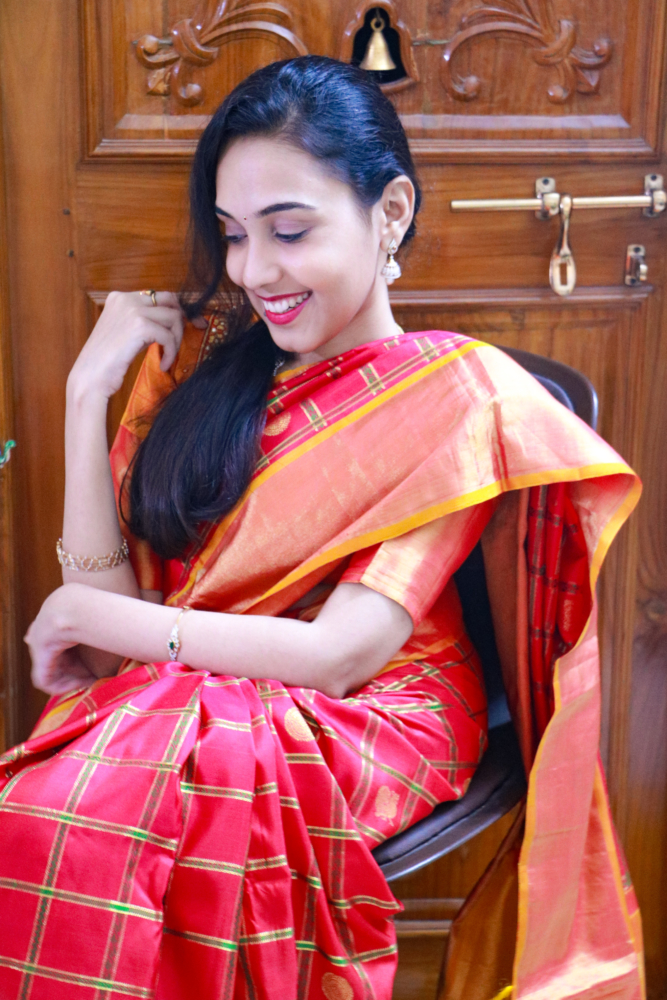 Navratri day 5 Makeup:
First, I prepped my skin with Clarins moisturizer and Biobloom lip balm. I gave it a couple of minutes to sink into my skin and then, I took L'Oreal true match concealer and started covering up the blemishes I had. I also used it on the bridge of my nose for highlighting.
I haven't used the foundation. I feel ok without it, so mostly I stick to just concealer. Then, I groomed my eyebrows with a brow pencil. Later, I applied a golden eyeshadow all over the lid and added a but bit brownish copper tint at the crease of my eye to give it some depth. I also added the same shade under my lower lashline. I also added a pop of shimmer at the inner corners of my eyes. I did not use any harsh hues for eye makeup because this is a festive look and I wanted it to be pleasant and bright.
Then, I curled my eyelashes and applied lots of Revlon mascara. A bit of white eyeliner to perk up your eyes. For lips, I put on a red lipstick from Disguise cosmetics and completed the festive look with a bit of L'Oreal boosting oil on my cheekbones for sheen.
Pro tip: Build your makeup step by step. Don't at once dab on a great amount of the product, build it drop by drop. If you feel you need a bit more coverage, you can anyway go for another drop. That way you will know how much of the product your face can take and how you can achieve an even tone.
Finally, a red Bindi. I think I should have gone for a bigger Bindi, what do you say?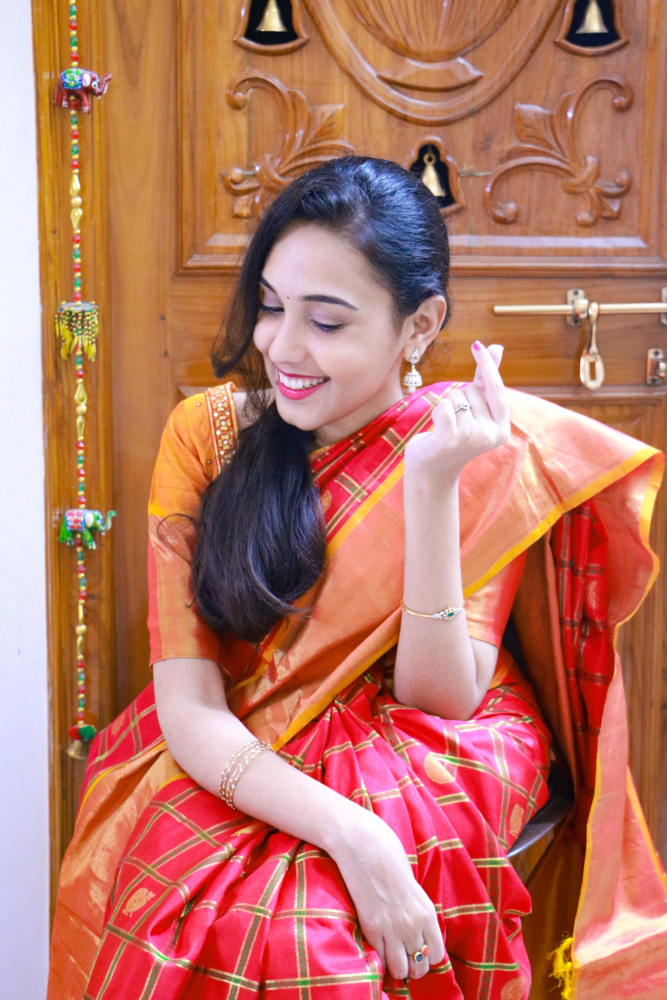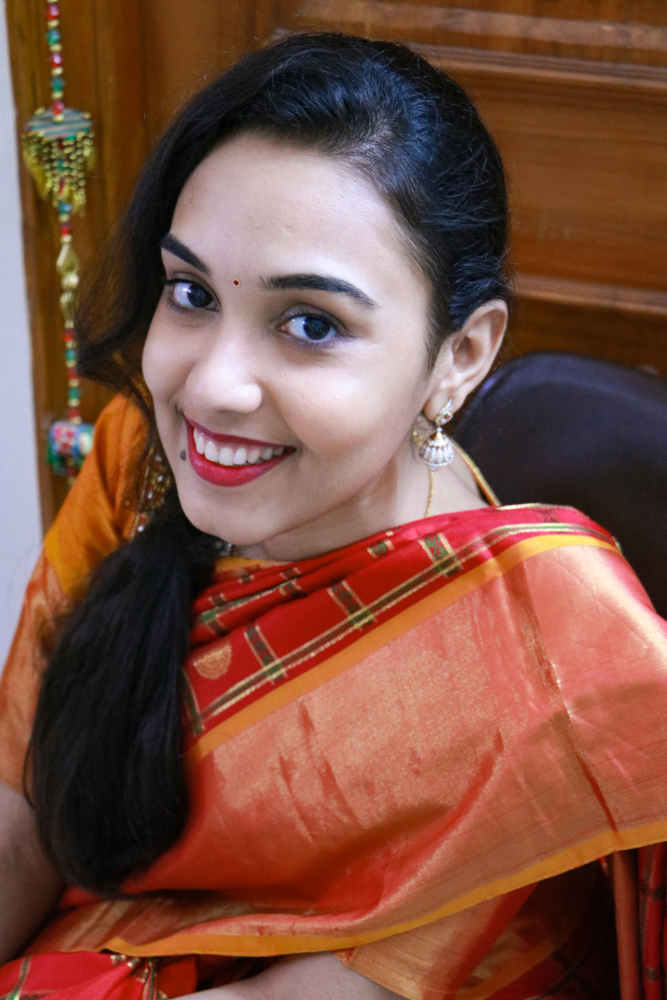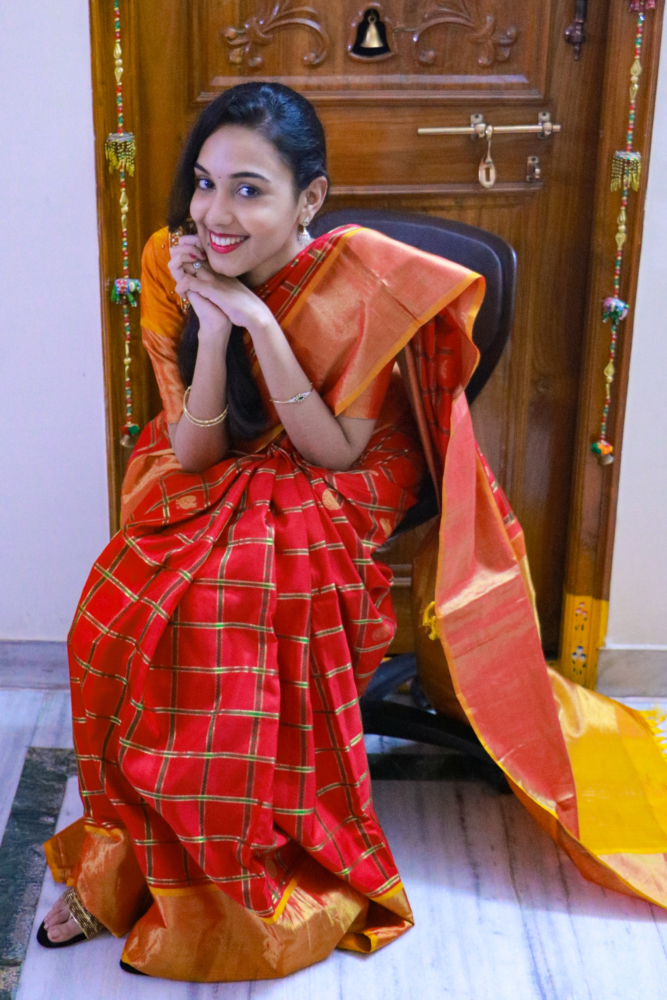 Watch the video here:
I hope you liked Navratri day 5 look in Kanjivaram saree. I'll see you again tomorrow with another look. Until then, you might as well have a look at my earlier Navratri sarees and makeup looks, in case if you haven't yet. Leave a comment down below and let me know how do you like the Navratri series? Any suggestions and tips are welcome.
Lots of LOVE,
Nikki.
---
*Subscribe, subscribe, subscribe*