It's Navratri day 1, dedicated to one of the many avatars of Shakti, Ma Shailaputri. This 10 day-long festival, including Vijayadasami, is one of the biggest festivals celebrated in India. I remember watching old movies around this time every year about lord Shiva and Ma Parvathi and thinking theirs is the best love story ever. I still think so. Their story has so much love, dedication, and passion. The story I distinctly remember is…
Sathi Devi is the daughter of Daksha, hence she is also called as Dakshayani. Proud Daksha is a King and a devotee of Lord Shiva but when he finds out that his daughter wants to marry him, he refuses. Once a devotee turns into an arch-nemesis because Lord Shiva is simple and not rich. Unlike the kind of person he expects his daughter to marry, Lord Shiva is detached to the worldly material things. He leads a normal life, lives in the mountains, doesn't have a family, and doesn't care about the riches.
However, all Devi Sati cares about is the inner beauty of Lord Shiva. Although she was born and raised in a luxurious lifestyle, her heart never belonged there. Despite her father's disapproval, she continues to long for Shiva's affection which fueled Daksha's hatred all the more. He's stubborn to get her daughter someone who is on par with his status. Forcefully, he tries to get her married. Unable to convince his father, she Marries Lord Shiva and leaves home.
After some time, Daksha prepares for a Yagna that doesn't include Lord Shiva and Sati, which is not acceptable as he is one of the three gods who rules the world. Every god, sage was invited but Lord Shiva and Sati. Not as a God, nor as a son-in-law. Hearing this, heartbroken Sati goes to her home uninvited (though Shiva tells her not to) and tries to stop her father, Daksha, from doing this mistake out of her love. But Daksha full of hatred and arrogance, he insults his own daughter.
Receiving such harsh treatment from her father himself made Sati miserable and felt humiliated in front of all the invitees. With such humiliation, she couldn't go back to Shiva, hence she draws fire and burns herself to ashes. But Daksha wasn't even moved by such an unfortunate incident involving his own daughter. He was still so stubborn and wants to continue with the Yagna.
Hearing this, Lord Shiva turns furious and invokes a powerful form, Veerabadhra, from his Tandav. The calm manner of Shiva till then disappeared and his anger has threatened world survival. He couldn't tolerate that he grew apart from Sati and he orders Veerabadhra to destroy the Yagna and Daksha. Just as he was ordered, Veerabadhra destroys the place, the people who dared to attend this meaningless Yagna, and finally, cuts off Daksha's head.
Daksha's wife was deeply distressed by her husband's demise and causes a storm with her devotion and love. Looking at the world falling apart by Lord Shiva and Prasuti's sadness, Lord Vishnu and Brahma intervenes. They ask Shiva to calm down but he was reluctant to the world destruction, all he could think about was Sati. But when Lord Vishnu reminds him of the responsibility of theirs' for world peace, Shiva regains his calmness and goes to console Prasuti. They bring Daksha back to life by attaching ram's head.
Realizing his grave mistake, Daksha begs the lords to also bring back his daughter, Sati. But Shiva replies that Sati doesn't want to be born as Daksha's daughter again for the humiliation he made, and she'll be reincarnated someplace else. And he's ready to wait for her until her next life, and the life after that and after that.
So… in her next life, Sati Devi was born as Shailaputri, daughter of Himavat. And their love story begins again…
That's one of the stories I love. And, that's all for the story-telling now and let's see today's outfit.
Navratri Day 1 OOTD
This is my outfit for Navratri day 1. A saree from my mom's wardrobe. I have my eyes on this saree ever since I saw her wearing it and finally, I got my hands on it today. And for this year's Dussehra, I've planned on wearing sarees all ten days. So, until the end of this festival, you are going to see me only in sarees.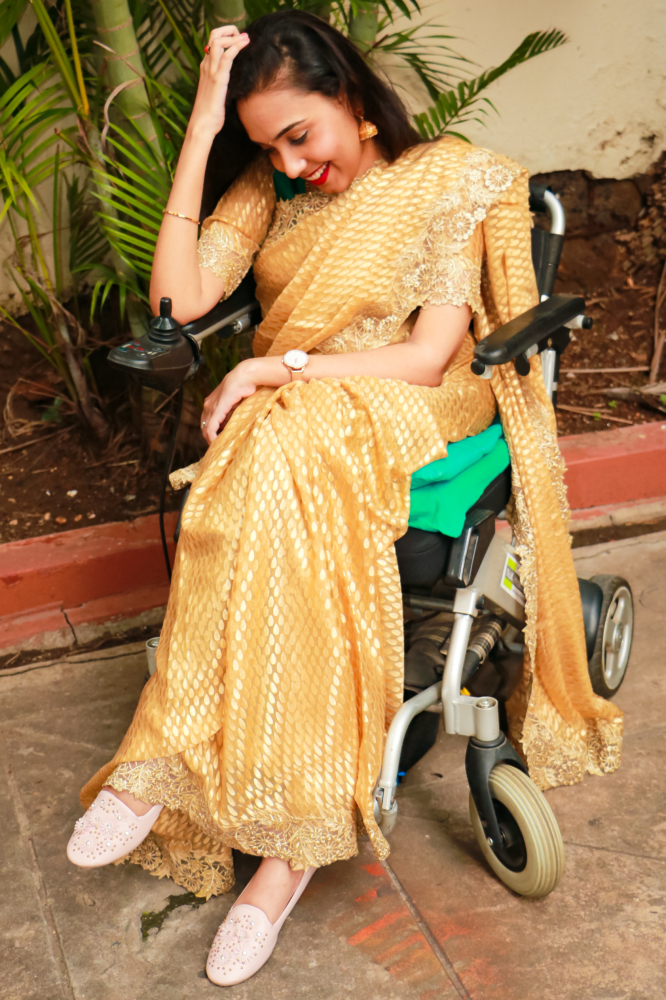 This is a golden yellow Brasso saree with cutwork.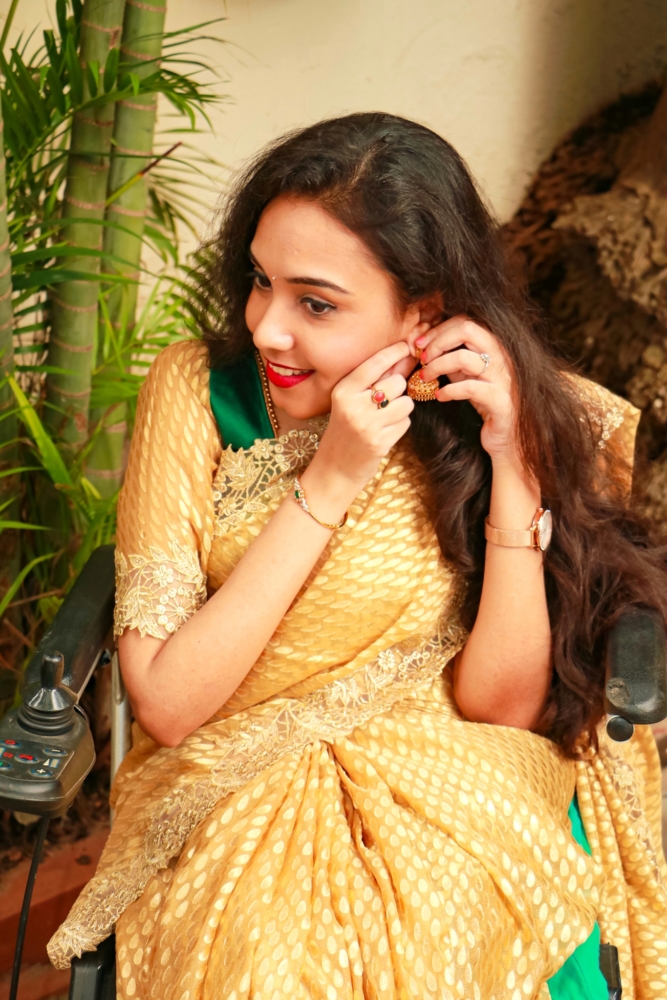 I've accessorized it quite simply.
Unlike the usual, I've paired it with light pink ballerina footwear. This added a nice, refreshing touch to the whole look.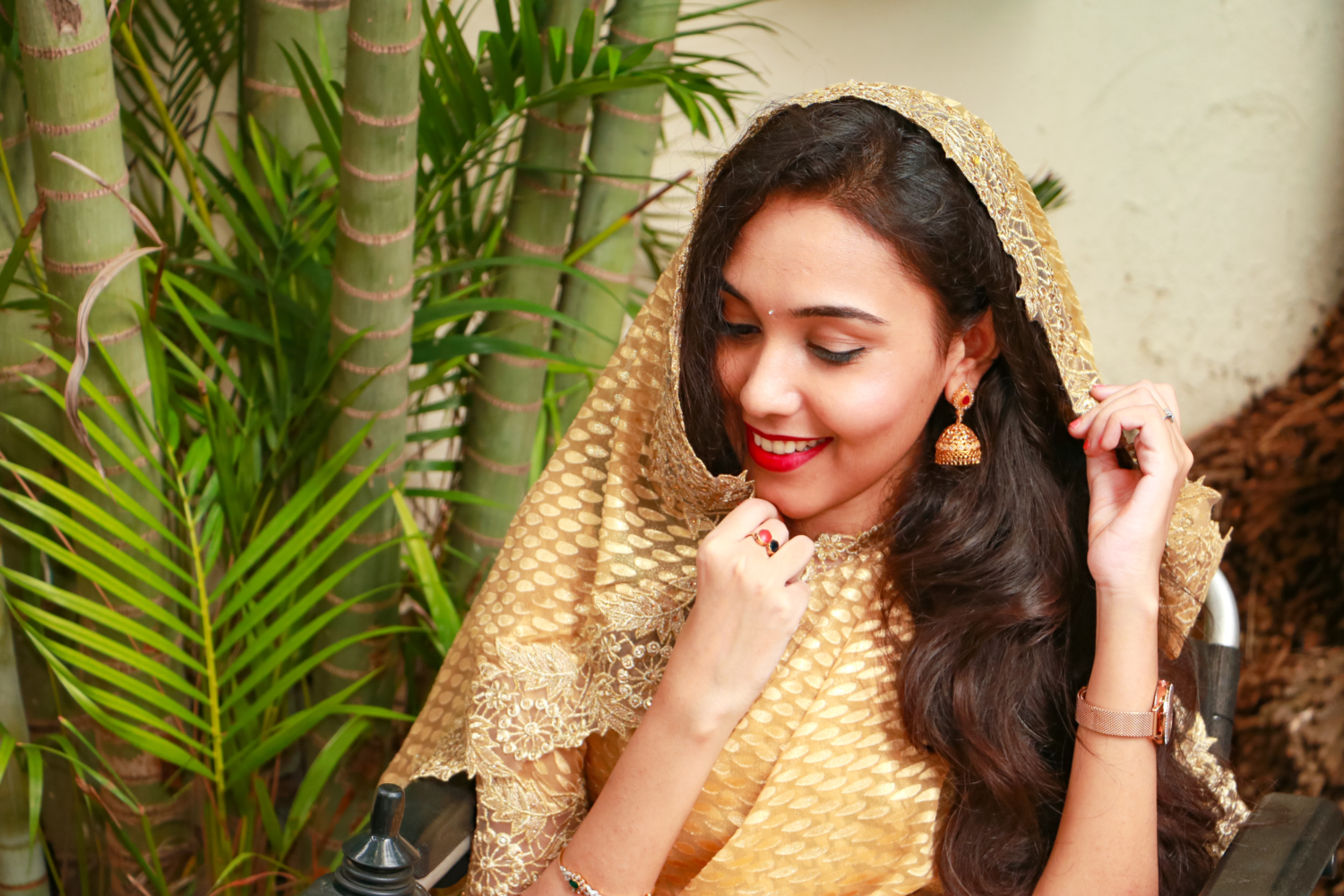 Even for the makeup, I only focussed on highlighting my features. I did not want to go overboard with my makeup for this saree. The saree itself is grandeur, so I went light with my makeup. But a bright red lipstick is a must for a golden yellow saree, isn't it!? Concealer + Simple eyeliner + Vine red lipstick from Chambor + Golden eyeshadow. I didn't even use a highlighter, but if you want to have a bit more sheen, use a highlighter of your choice.
Always remember that the most important thing to look beautiful is to wear a big bright smile. It can elevate even the most ordinary outfit into something more than ordinary.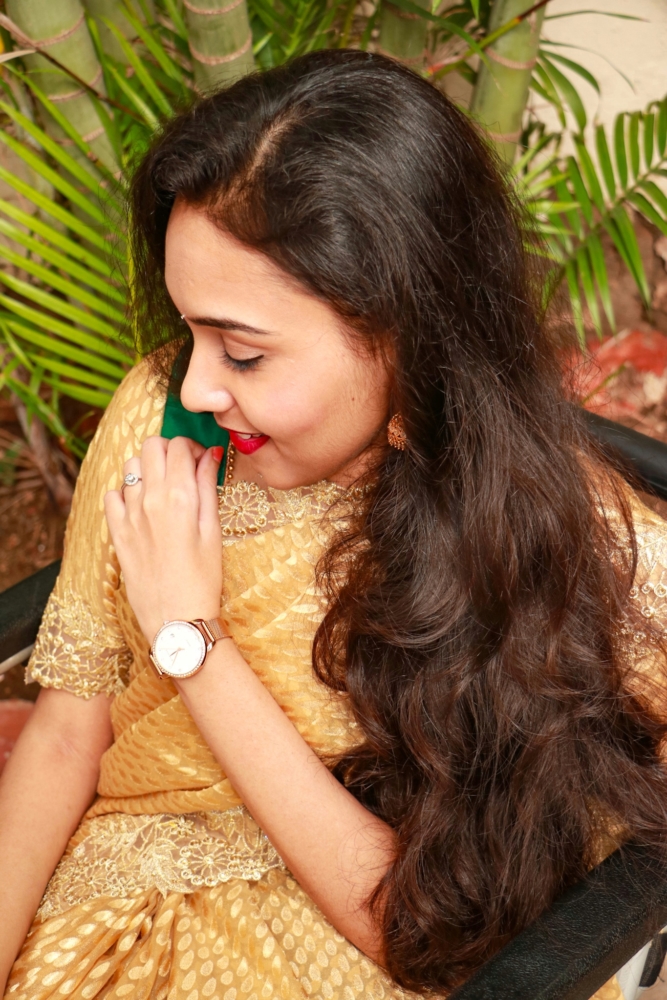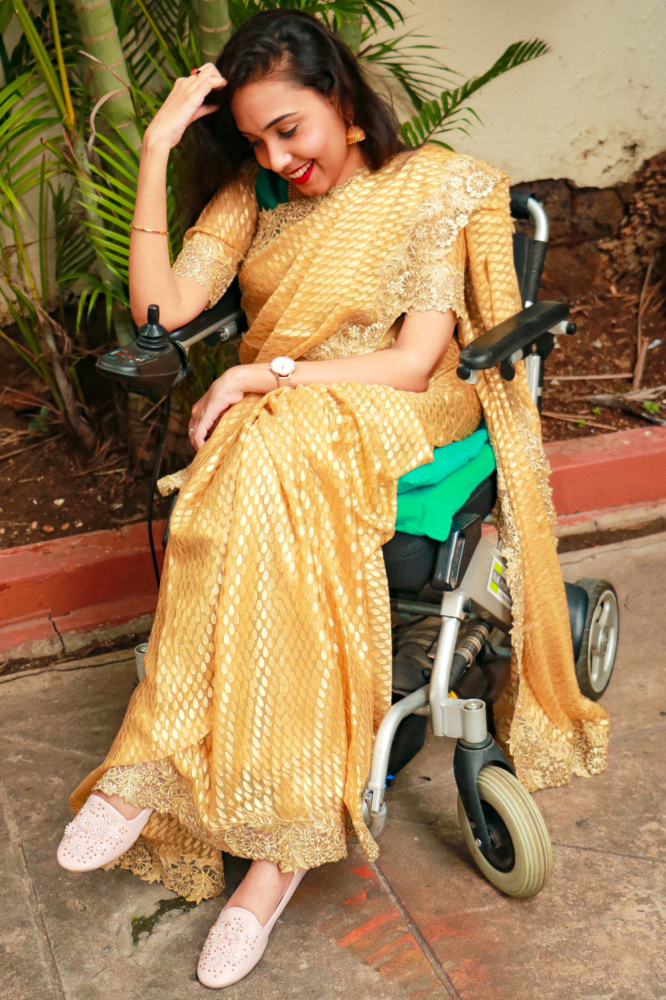 Voila! That's my vibe today. And, here's a video.
That's all for Navratri day 1. I hope you will have a fantastic festival with your kin and Ma Durga showers a big bunch of blessings on you. Happy Navratri! Navratri Subhakankshalu. Shubh Navratri.
I'll see you tomorrow!
Lots of LOVE,
Nikki.
---
*Subscribe, subscribe, subscribe*