Navratri day 2 is dedicated to Goddess Brahmacharini, another form of Ma Durga. After Dakhayani, ma Durga took birth as the daughter of Himavat, the king of mountains. Hence she is also called as Hemavati and Parvati. As she was growing up, she came to know that she can marry her husband from the previous birth, Lord Shiva. Determined to marry Shiva, she begins an austere regime of devotion. She worshipped Shiva for thousands of years fasting, she slept on the floor. While she was doing her best to regain Shiva's affection, Shiva waited for her to fulfill the purpose of her birth. And after a point of time, she even stopped having food or water. She became extremely weak but did not give up her determination to marry Shiva. Later, Shiva marries her.
Lord Brahma praises her that only she could have taken such hardships for thousands of years, for her love on Shiva is the greatest. Devotees worship Ma Brahmacharini for such determination and devotion.
So, that's today's story.
Then, shall we get to the fun part of the day now?
Navratri Day 2 #OOTD
As I said, I picked another saree from my mom's wardrobe for today and this Kota Silk saree looks basic but it's beautiful. Most importantly, it's comfortable. Basically, I love wearing sarees, so I can bear any kind of saree. But I (or anybody) enjoy it even more only if suits my comfy level. And I find this Kota silk saree super easy to carry. Those of you girls who feel sarees are uncomfortable, this Kota silk saree will help you. It's not heavy, doesn't prick. It's super comfortable.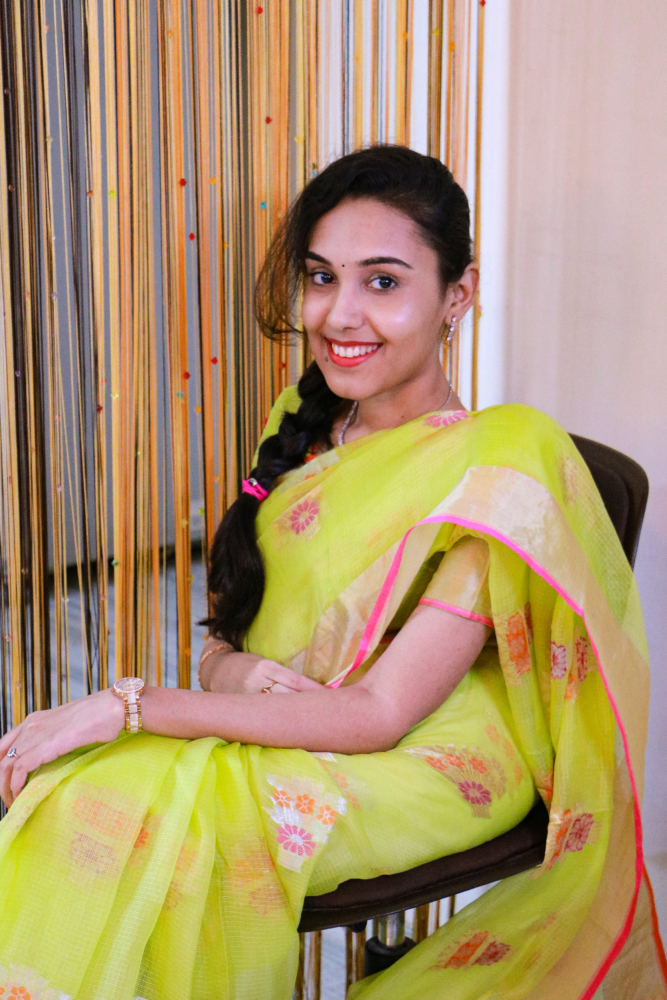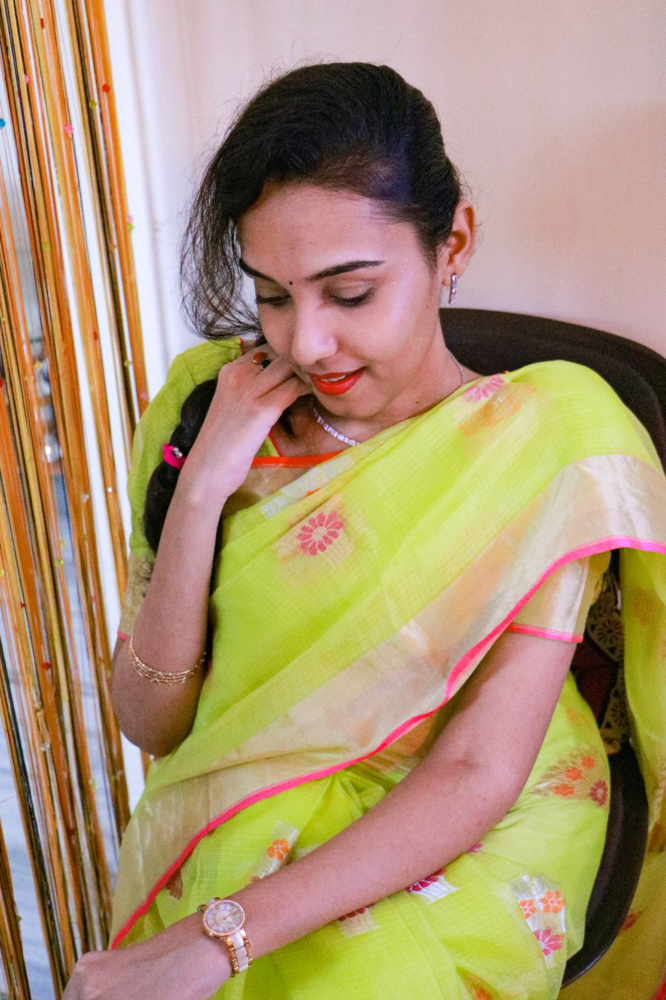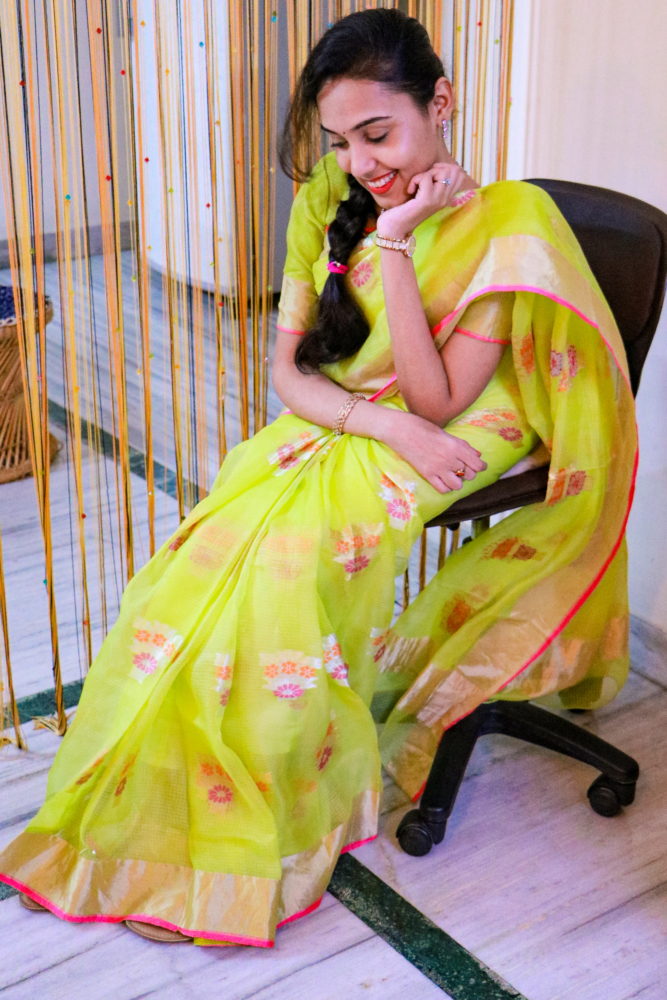 I wore a simple side-swept braided hairstyle.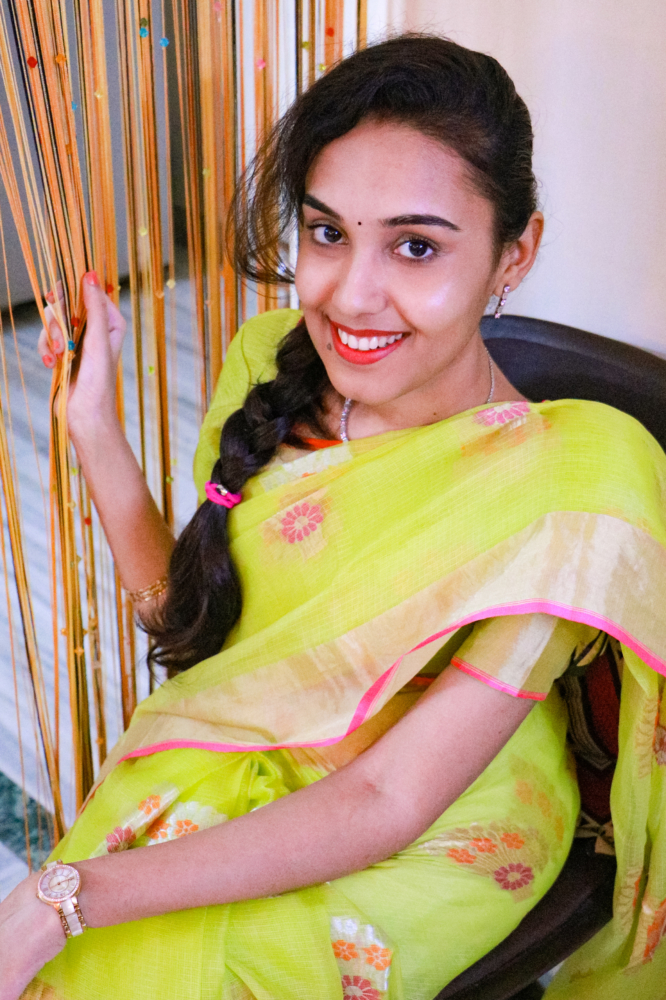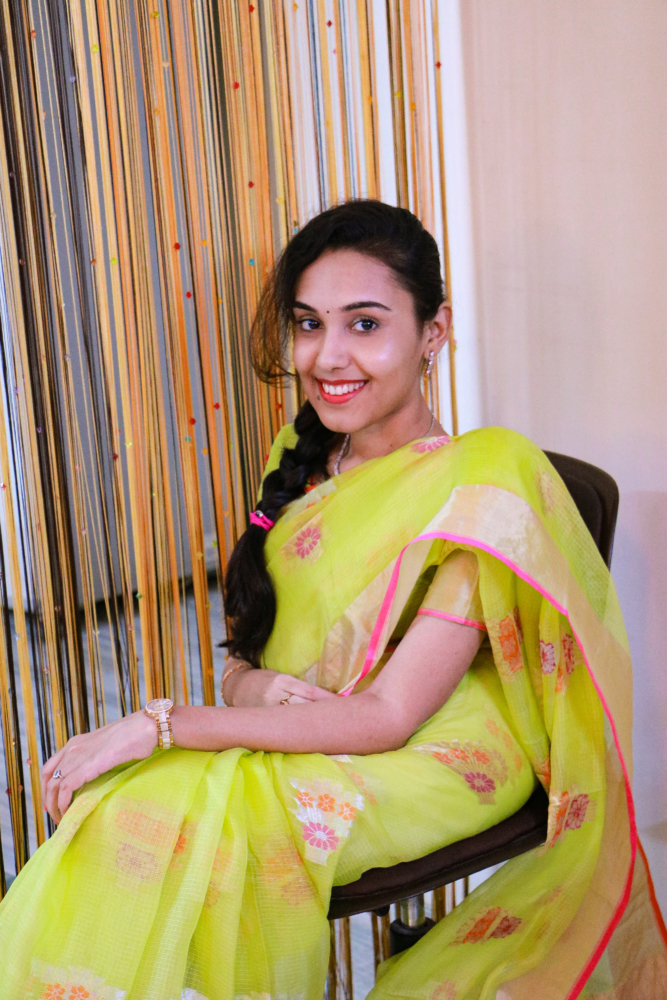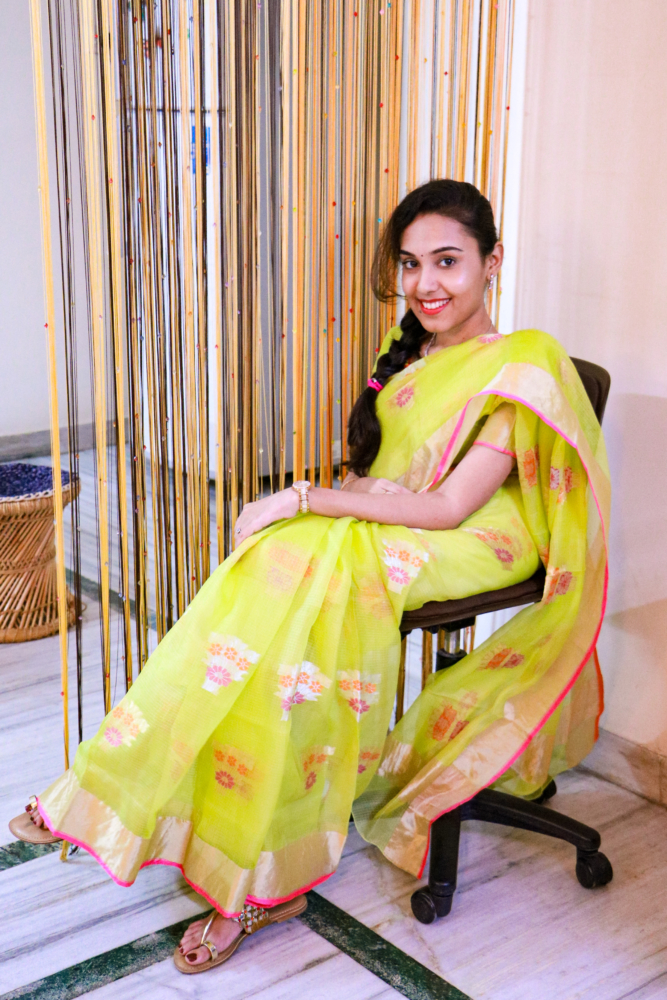 You can see how minimally I accessorized it. I only want to elevate the simplicity of this saree, so I did not go heavy with either the accessories or the makeup.
5 Step Dewy Makeup Look
Apply a good moisturizer on your face and lip balm on your lips. If you use a primer, you may use that. This is the basic skin prep before makeup.
Apply concealer and blur out all the blemishes. A little thought here is not to try to completely clear out the blemishes. A flawless look is what we all want but it doesn't look natural. A bit of flaw is what makes you, YOU. So, don't try to achieve something unnatural. Just blur them a bit, not completely covering 'em up. That's how I feel.
A lipstick of your choice. I chose a bright color as the outfit is a bit basic, I wanted to add a bit of zing with a vibrant lip.
A very subtle creamy eyeshadow. For a dewy makeup look, I feel cream eyeshadows are the best. They blend in and accentuate your features. I used a green color here, just a tinge to brighten up the eyes.
Finally, a good highlighter. Use it on your cheekbones, bridge of your nose, and the tip of your chin.
Check out this video for the complete makeup look:
Makeup brands used:
Jolee Newyork lipstick
Iconic London illuminator
Loreal concealer
Revlon compact powder
Clarins moisturizer
Biobloom lip balm
Many of you complimented day 1 look and I hope you also liked Navratri day 2 look. If you did, leave a comment below and let me know. I'd be happy to hear from you. Happy holidays!
I'll see you tomorrow again!
Lots of LOVE,
Nikki.
---
*Please, subscribe. Pretty please!*