There are no good books and bad books, just books. It's just one's preferences and taste that differs. The one I like may not be your best read and vice versa. You all know I'm a very picky reader, I can't just read about any book. I take forever to choose a read. Yes, sometimes I try to experiment but very rarely. Some succeed while some don't, still, the experience is all that matters, right?! Anyhoo, in 2020, I wanted to start with a light read hence this is what I chose, "Tell Me Three Things". Although I had it with me longer, I couldn't read it until this year. I kept postponing it for some reason, anyway I read it finally.
So, let's get to the review part.
Recommendation: Books I loved last year
A bit about the author:
'Tell me three things' is written by Julie Buxbaum and this is her debut novel. Her other works include The opposite of love and After you.
Synopsis:
Me: Tell me three things I don't know about you. You know, besides your name and, well, everything else.
SN: Okay. (1) I make a killer grilled cheese. (2) I f you met me even a year ago, I was totally different person; (3) … I don't know. May keep this one to myself.
Me: Come on. You keep everything to yourself.
SN: (3) I like you.
Me: (3) I like you too.
Here are three things about this book. (1) It's sweet and funny and romantic; (2) the mystery at the heart of the story will keep you turning the pages; (3) I have a feeling you will be happy you read it. – Jennifer E. Smith (author of The Statistical Probability of Love at First Sight)
Verdict:
Not for me.
Tell me three things
Okay, so, I did not like this very much. It's an okay-okay read. Basically, as I said, not for me. I felt the story immediately left my mind as soon as I closed the book every time. It did not leave a lasting impression on me.
But the story just moves smoothly, the narration is so easy to keep on reading. Which is on the plus side. Some books, we just get tired after reading a few pages but this one we can go on reading. You know what I mean? It's a teenage love story. If you have watched English high school rom-com movies, this book is just one more story that falls into this category. It's pretty predictable.
This story is about a girl, Jessica Holmes. She lost her mother and her father re-married another woman from LA. So she had to move to LA with her father away from her home and her best friend, Scarlet. In that new place, she finds it really hard to make new friends, let alone making friends she even finds it hard to figure out her homeroom at school. Although she lives in a dream house, in LA, a place everyone dreams of, and joins an elite school, she still couldn't adjust to the new surroundings. All she could think of is her home back in Chicago. But one day she gets an email from an anonymous person with a name as 'Somebody Nobody' (SN for short). The only thing she knows about this SN is that he is a boy from her new school. And he offers to help her settle in.
And the author asks us "What if the person you need the most is someone you've never met?' This tagline, the cover picture and the synopsis of the book intrigued me at first sight. Those are the three things that made me pick this book. If I have to rate these things, I would give full points. They are sweet, intriguing, and catchy.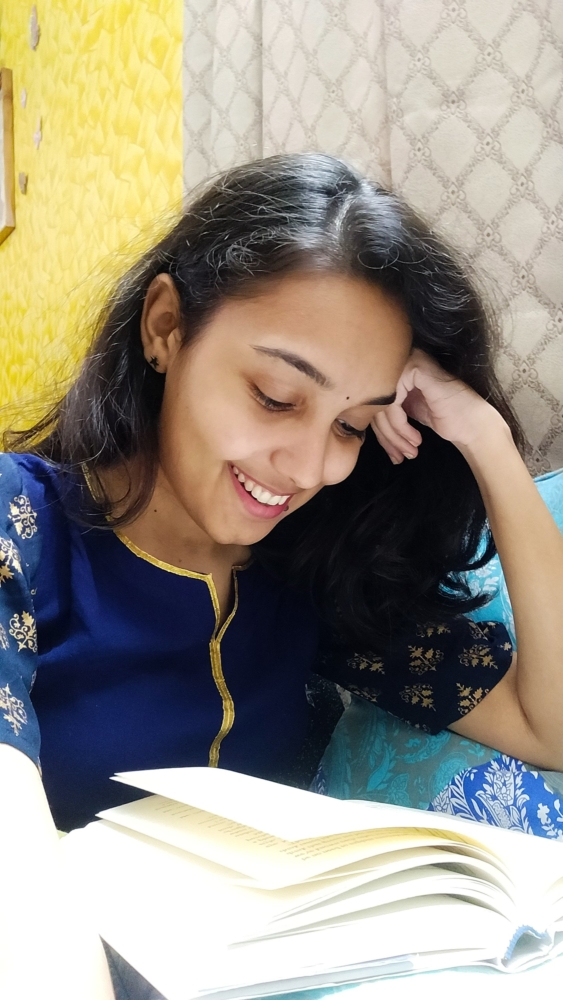 Yes, I found it interesting when I read the summary of the book but I haven't loved it much after. Neither am I disappointed completely. It's okay. At times I felt a little bored, some times I felt too much description. But I also remember letting out a laugh once or twice. Overall, it's fine.
So, my rating for this one would be 2.5/5
But if you are someone who loves teen fiction, high school love kind of stories, then you might enjoy this. So, that is my review about 'Tell me three things', and I'll see you soon again with another topic to discuss. Adios!!
Lots of LOVE,
Nikki.
(Penname: Sarvani)
---
---