Are you a mobile addict? If you are a person who can't keep your hands off your phone just like me, then why not use it for our own good? I do half of my work on my phone and when I feel monotonous I have also kept some apps for a breath of fresh air. So I have made a list of 10 android apps that help me have a fun yet productive day. These are the best android apps all time. Go on…
You may be wondering:
"Productive, huh? These apps might be boring" but that's not really true. Find it out yourself!
Now:
I'm going to uncover the apps I have got on my phone. Wanna check out!
You may also enjoy reading 15 best android apps of 2017
You may also enjoy reading 10 happiness boosters
10 android apps that might save you from monotony
Why wasting time lingering over the Facebook news feed when we have so many amazing apps around!! Here's the list of 10 android apps that might save you from a monotonous day. Read on to know best free apps for Android phones….


1. Duolingo: A way to learn the language you could only dream of
One of the 10 android apps I'm using is Duolingo. I have come across this cool app some time back and I'm glad I did. I've always been fascinated to learn new things especially languages. And this app is the solution I have found. Duolingo is an app to learn foreign languages like French, Spanish, German, Italian, Irish, Greek and much more. It's really a great way to learn your dream language. Currently, I'm learning Spanish. Tho I'm not that fluent yet, I have learned so much from this app. Those who have a dream of learning a foreign language but can't find a way, this app helps you, amigos. And the best part is it's FREE.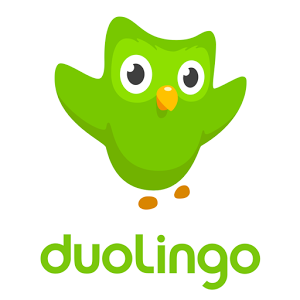 Now comes the fun part…
2. MomentCam
Next one in the list of 10 android apps is "MomentCam". In this application, you can create your caricature and emoticons as you wish. It has so many styles that you can't resist but swipe to see what's next. When I first found this app I spent almost half a day exploring this app. It's such a fun time-killer. Wanna see some of my caricatures that I did on MomentCam?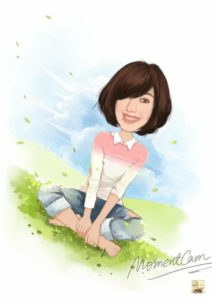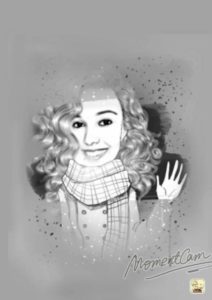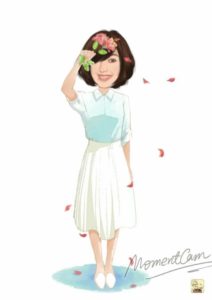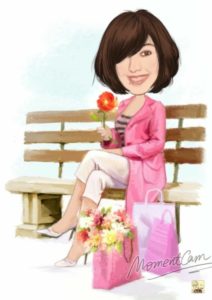 3. Smule
If you are a singer and tired of searching for karaoke of your favorite songs every other day, then this app is for you. Smule has the karaoke of every song and you can sing and record. If you are a music lover, you should definitely download it. I have downloaded it a while back but couldn't get to sing.
Also, check out 10 things that truly make us happy and we need to cherish
4. Wynk music
I'm a music-lover but I can't download every song that hits my mind cause I don't wanna end up having no space for my pictures and other important files. So I downloaded Wynk music app and now I have a lot of space for my pictures, documents, and everything.
5. Uber
Uber is a cab service app. I have my own vehicle but still downloaded Uber, you know, just in case. I didn't get to use it till now.
6. ListNote
As a blogger, I must write or type a lot every single day. But sometimes we all feel lazy to write or even type, and this app made those times smoother for me. ListNote is a speech-to-text app and it's quite useful for those who need to write a lot. I've found it quite a help when I don't feel like typing.
You may also like 10 most popular apps in India
7. Quiz: Logo game
I don't play games much but this game is really interesting. Actually, my brother introduced me to this logo game and he's really good at this. This is much more fun when played in groups.
8. Dubsmash
You might have already heard about this app. It came into the market way back but people are still nuts for it. It's one of the best pastimes.
Girls, you're gonna love the next app!!
9. Spoyl
We all have a section of our wardrobes that we don't use at all. We liked them while buying but still, we don't wear them and our moms keep taunting us for that. I also have a major section of my closet filled with such outfits. Then I thought why not dispose of them and have 'em replaced with new ones. Exciting! isn't it! So I downloaded Spoyl app for that recently and have to see how that works. This is a must-have app for everyone, especially women.
You may also like most stunning and stylish boho chic jewelry
10. Bunch of social media channels
For a blogger, it's really really needed to be active on every social media channel. So I had downloaded everything from Facebook, Instagram, Twitter to StumbleUpon and Quora.
You may also enjoy 7 success strategies that work like charms
So, guys, this is it. These are the Android's 10 most exciting apps that I use. Tell me which app you liked better and are going to install right away! If you also happen to know any other app that's worth sharing it with others, do let us know in the comments section below.
LOVE.
---
*This post contains affiliate links*
For more updates on the blog, follow our Facebook page Nikki's talk. We'll keep you notified of all our future posts.