Hello, you beautiful-s! I hope you loved my earlier college fashion post and now it's time for beauty talk. So, you might have seen many people talk about the things to do to look younger or what to do to look beautiful but here, we are gonna see what to avoid to look beautiful and much younger or look probably the age you are but never older than your age. Soooo, are you ready to learn the makeup tricks no one ever told you?!
Makeup tricks to help you look younger and prettier
I believe to look younger one should prefer a more natural look rather than a total glam look. Hence we are gonna see some makeup tips and tricks for a natural look which will help you look younger and prettier as you are. These tricks are a part of my everyday makeup routine. These are also the best makeup tips and tricks for beginners as they will know what ought to be avoided.
So, let's see the basic makeup tips and tricks for your rescue!
1. A Mascara Blunder
One of the most common mistakes people do is over application of mascara on the lower lashes. Using too much of mascara on your lower lashes makes you look older. I suggest you apply mascara on your lower lashes only if it's absolutely necessary. But never overdo it. This is a major blunder.
2. Overdoing brows
And the next one from our makeup tricks is for brows. I often see people making harsh lines on their brows with a brow pencil but it's not the way. You must always be gentle with your brows. Hold the pencil at an angle and go over your brows smoothly. And also, one more thing you must remember here is never to fill your brows totally from the start. Keep it natural. Filling your brows from the beginning makes it look unnatural. So leave the start of your brows in a lighter shade than the rest of your brow.
3. Choose the shades carefully
Remember to go the minimal way. Don't use harsh colors. Always prefer the lighter shades. Even if you want to go for a brighter shade, keep it light. Application of too much product makes you look old.
4. Go the minimal way
Don't use some tens of products on your face. That will make you look old and also, seeing too much makeup on face won't leave a good impression in the eyes of others. So, choose your products wisely.
5. Eye pencil trick
As per me, this is one of the best beauty tips. Eye makeup is the most crucial thing when it comes to makeup and we have a couple eye make up tips as well to save you from looking older. Use them wisely! So, always use a lighter eye pencil on your water-line like white one or flesh color. It would make the eyes instantly pop and look bigger. And also use the same color at the inner corner of your eye.
6. Be bold the right way
Bold colors are more pigmented, hence apply very little amount of your chosen colors. If you really want to carry a bold makeup look and not sure if the colors you chose are blending in, choose your hairstyle carefully. Preferably, an open hair will look good. When you think you are unaware of what shades to choose and all, go with an open hair. This is always a rescue when your makeup fails.
7. Makeup tips Foundation
While choosing a foundation, one must make sure that they are purchasing the foundation of their own skin tone. Otherwise, it will look all uncanny. So proper care must be given here. To know if a foundation matches your skin tone, you can take a swatch of it on your jawline and see if that's your shade. If it's the same, bam, you're all set.
Xoxo
Nikki
---
*Subscribe to Nikki's talk*
Summary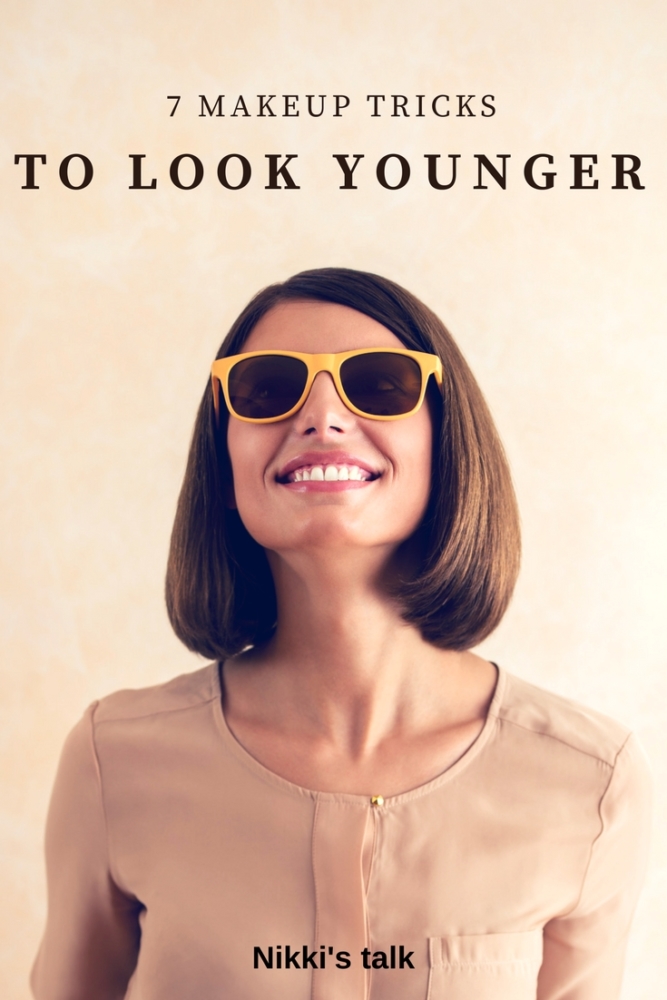 Article Name
7 makeup tricks to save you from looking older than your age
Description
6 makeup tricks to save you from looking older than your age, basic makeup tips and tricks, eye make up tips, makeup tips and tricks for a natural look, makeup tips and tricks for beginners, makeup tips foundation, makeup tips youtube, makeup tips videos, easy makeup tips at home, best makeup tricks
Author
Publisher Name
Publisher Logo